At Goofi, the popular kid's learning brand of Light of Hope Ltd., our passion is to empower children with the skills and knowledge they need to thrive in a rapidly changing world. This time, Goofi is bringing its magic through school nutrition campaign to create healthy food habit among children.
One key aspect of a child's development is their nutrition and health, and that's why we're excited to share the story of our partnership with Shokti, a brand under Grameen-Danone. Together, we're beginning to make a real difference in the lives of young minds through our "School Nutrition" campaign.
The "School Nutrition" Campaign: A Journey of Discovery
The "School Nutrition" campaign is a vibrant and engaging initiative aimed at educating children about the vital importance of healthy eating. We're using the power of storytelling and our lovable Goofi muppet characters to bring this message to life. Through colorful adventures and heartwarming tales, we're teaching children about nutritious food, balanced diets, and the joy of making healthy choices.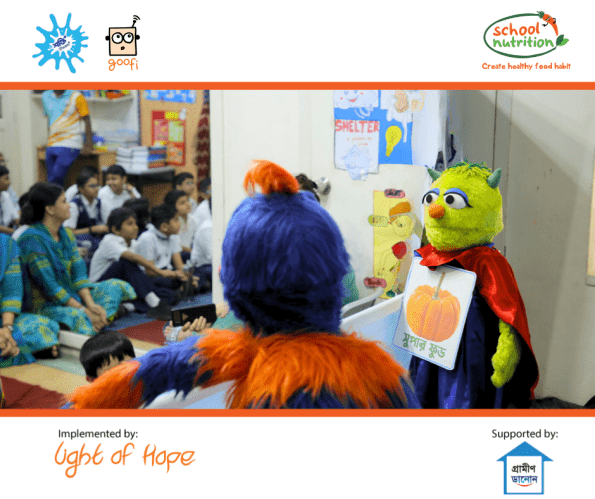 Shokti: A Delicious Partner in Health
Our partnership with Shokti, a brand known for its commitment to health and nutrition, has been a game-changer. Shokti Yogurt and other wholesome snacks they provide have added a nutritious and delicious element to our campaign events.
Together, We're Achieving Remarkable Success:
Over the course of the campaign, Goofi and Shokti have come together to make a meaningful impact on young lives. Here's a glimpse of our achievements:
Educational Puppet Shows: Our interactive puppet shows have captured the hearts of children, delivering essential lessons about healthy eating in a fun and memorable way.
Learning Materials: We've provided schools with educational and behavioral change materials that reinforce the importance of healthy food habits among children, ensuring that our message extends beyond the show.
Offering Healthy Snacks: Thanks to Shokti's support, we've been able to offer children nutritious and delicious snacks, reinforcing the message that healthy food can be tasty too.
Sustainable Impact: To make the impact sustainable, Shokti is also working with the school management to make their nutrition-fortified yogurt available at the school premise, so that children can have easy access to the alternative yet tasty snacks option.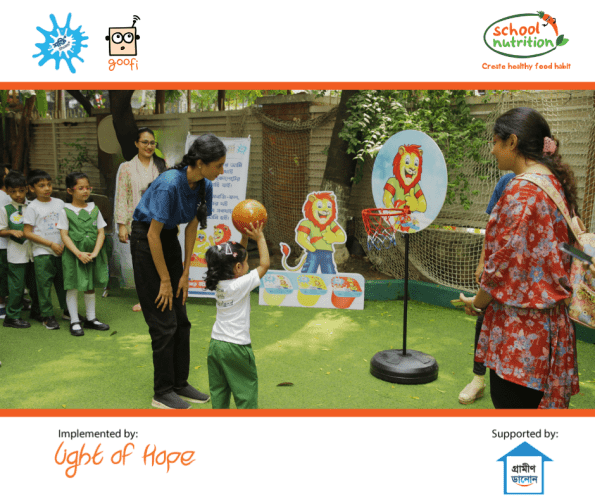 Looking Ahead: A Bright Future for Healthier Kids
Our partnership with Shokti has set a powerful precedent. Together, we're committed to expanding our reach and making the "School Nutrition" campaign even more impactful. We're working tirelessly to inspire more schools, touch more young lives, and spread the message of health and well-being.

In the Year 2023, the partnership is committed to cover total 20 schools and will continue to support the campaign in coming years.
Contact Us: For partnership inquiries and to learn more about the "School Nutrition" campaign, please reach out to us at 01777800866. To learn more about the campaign, Visit Here.