In an effort to foster a love for reading among young children, Goofi, a renowned children's learning brand, recently teamed up with Let's Read Asia, an initiative by the Asia Foundation. Together, they embarked on a heartwarming campaign in schools across Dhaka, Bangladesh, aimed at kindling the joy of reading in the hearts of both children and parents.
The cornerstone of this initiative was the Let's Read Asia app, a treasure trove of over 10,000 children's books, designed to make reading both accessible and enjoyable. Goofi and Let's Read Asia recognized the profound impact that early exposure to books can have on a child's intellectual and emotional development. Thus, they set their sights on introducing this magical world of stories to kindergarten children in Dhaka.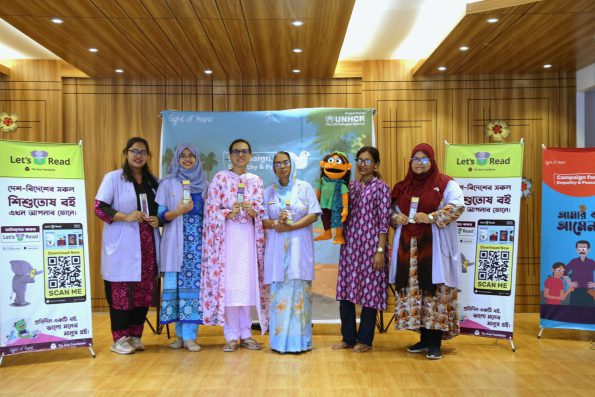 The campaign was characterized by its engaging and interactive approach. Goofi, with its iconic and beloved characters, captured the attention of children, making the journey into the world of books a delightful one. The objective was clear: to promote the Let's Read Asia app within schools and cultivate a reading habit among these young learners.
One of the primary goals of the campaign was to not only make children avid readers but also to involve parents in the process. Parents play a pivotal role in shaping a child's reading habits. By engaging them in the campaign, Goofi and Let's Read Asia hoped to create a collective environment that nurtured a love for reading at home and school.
Through story sessions, book readings, and various interactive activities, children and parents alike were introduced to the wonders of the Let's Read Asia app. The infectious enthusiasm of the little ones as they delved into captivating stories was a testament to the success of the campaign.
The schools that participated in the campaigns are BAF Shaheen College, Cantonment Board High School, and Shaheed Bir Uttam Lt. Anwar Girls' College. We went to a total of 18 schools as part of our campaign.
Besides the school campaign, the Goofi team launched a digital campaign with a heartwarming video of the popular Goofi characters to promote the Let's Read Asia app to children and parents. Popular authors of Goofi books also encouraged parents to install the app for their children.
Parents can download the Let's Read app from the Play Store both for iPhone and Android Phones and can spend numerous hours of storytelling for their children.
This heartwarming partnership has undoubtedly sown the seeds of a lifelong love for reading, leaving a positive and lasting impact on the children of Dhaka. It's a testament to the power of storytelling and the joy of discovering new worlds through books, all made possible by the synergy of Goofi and Let's Read Asia.
Click the link below to download the Let's Read Asia App and get a chance to read 10,000+ books from all around the globe.
Let's Read Asia App